RANDY BANES WITH HIS 2000 BOW KILL!!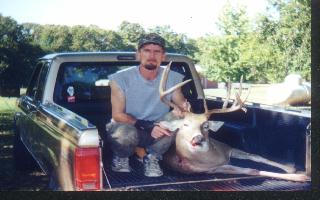 10-12-2000 9-point 148 1/8 P&Y

BILL BRADFORD with his NOV.8-POINT, This Buck will score 119 3/8 P&Y,BILL is one of our guides at CASEYFORK, and he will do his best to put YOU on a BIG WHITETAIL BUCK!!!!!!


A NICE 9-POINT



THIS IS JUST A SAMPLE,AS ME AND MY GUIDES HAVE TAKEN MANY MORE DEER AND TURKEYS THAN WE HAVE PICTURES AVAILABLE,I WILL TRY TO UPDATE THIS SITE AS SOON AS I RECEIVE MY PICTURES BACK!!!